Rates not showing
If you're not seeing Sherpa's delivery rates on the checkout page, this could be due to a few different reasons. If none of this is helpful, please email plugins@sherpa.net.au and our support team will be in touch to help you.
Sherpa account details are incorrect
If you have added your details incorrectly, or you have changed your password or email address since you first enabled the app, you will need to update them.

To check your current credentials are correct, navigate to App > Sherpa Delivery and on the Dashboard, select 'Check My Credentials' - you should see a message that says 'Credentials OK' at the bottom of the screen. If they are not ok, please re-enter and when they are correct, select 'Save Credentials'


Test account is selected, but live account details are added (or vice versa)
Often developers set up accounts with test credentials first, but when new credentials are added, the test account tick box is still selected. If your credentials aren't correct, try un-ticking the test account box.


App isn't enabled
The app must be enabled for rates to show. To check your app is enabled, navigate to App > Sherpa Delivery and on the Dashboard, select 'Enable'.


Delivery rates aren't enabled
You must enable rates for them to show at checkout. navigate to App > Sherpa Delivery and on the Dashboard, select 'Manage Rates'.
Delivery rates are enabled but not selected within custom operating hours / times
Under Location Details, if you're using custom days, check that rates are enabled for the days you wish to offer delivery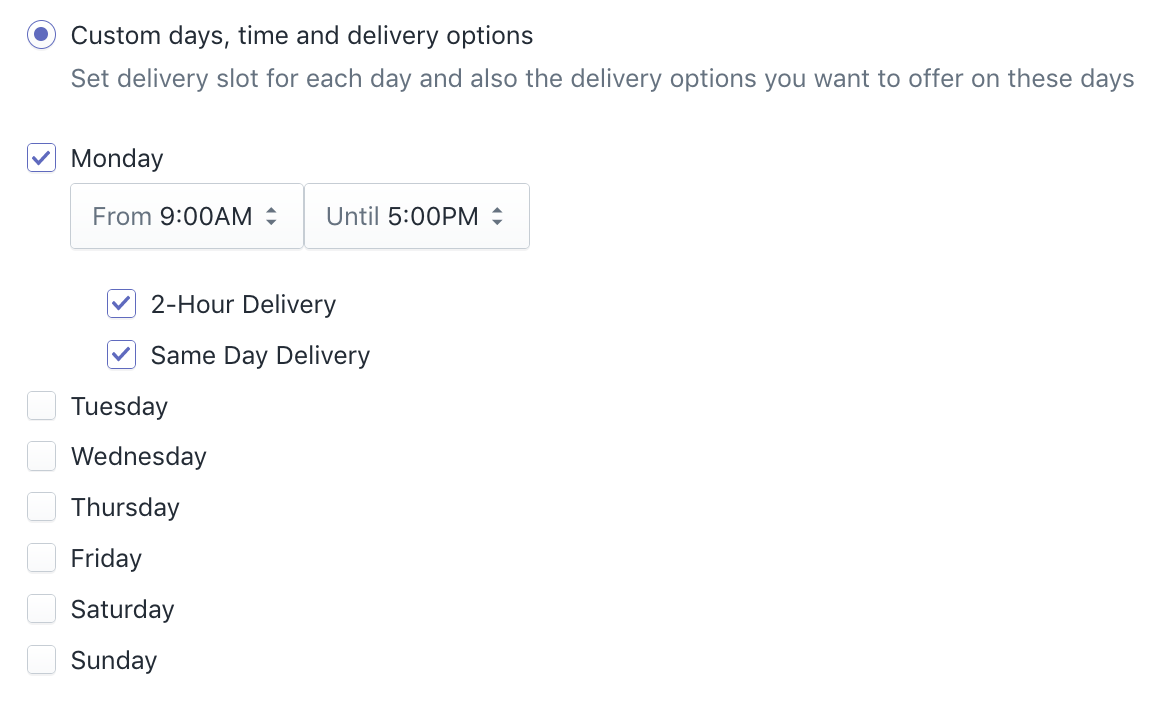 Inventory is not available
For single locations, if an item in the cart is not in stock, Sherpa rates won't show. For multiple locations, customer's will be prompted to add their postcode to check inventory and asked to remove out-of-stock items from cart to continue.
If Hide Sherpa cart options is selected, if an item in the cart is out of stock, or customers' location is out of delivery range, no rates will show.

Customer's delivery address is out of range
Sherpa doesn't delivery beyond 100km, and if an order is set as a 1hr delivery, the delivery boundary for 1hr deliveries is 5km from pickup location.
Item is tagged to be excluded from Sherpa delivery
If a cart contains an item tagged with 'sherpa-exclude' then Sherpa options will not show at cart or checkout.
Sherpa carrier rates aren't added to your shipping zones
Once the app is enabled, you need to add Sherpa carrier rates to your shipping zone/s for them to show at checkout.
Once Sherpa app is enabled, from your Shopify dashboard select Settings
Select Shipping and delivery
Navigate to Shipping > General Shipping Rates > Manage rates
For the shipping zones you use Sherpa, select Add Rate and select Use carrier or app to calculate rates
Select Sherpa (rates provided by app)
Select Save
Carrier-calculated shipping service isn't enabled on your Shopify account
The Sherpa Delivery app relies on Shopify's carrier-calculated shipping service to display shipping options on the checkout page.


If you're on Advanced Shopify, Shopify Plus or an annual plan, you will have this service enabled by default. However, if you're on the Shopify Basic plan, you may be prompted to enable the carrier-calculated shipping service before you can use the Sherpa app.


To enable the carrier-calculated shipping service, you can choose to either:
Reach out to Shopify's customer support to have this service enabled on your existing plan at an extra cost of $20 / month.


Switch to the annual billing plan with Shopify.


Upgrade to Advanced Shopify plan or Shopify Plus.
Once this service is enabled, you should be able to use Sherpa's app with your Shopify store.
Buy Now button is enabled
Shopify allows your store to offer a 'dynamic' checkout button, which displays to your customers as a "Buy Now" button on product pages, and takes them directly to the checkout when selected.
This button is currently incompatible with Sherpa Delivery because it bypasses the "add to cart" functionality required to input post code and select a date from the calendar date picker.
We recommend removing this button completely from your product pages
Remove "Buy Now" button from your product pages
From Shopify's admin, select Online Store, then Customize.


Select Customize.


Select the dropdown menu at the top and select Product Pages.





Uncheck Show dynamic checkout button.


Select Save.
Error: 'This app isn't compatible with your store'
This problem usually occurs if your Shopify store settings don't have locations or shipping profiles in Australia or New Zealand, or currency is not set for AU and/or NZD.

These need to be in place before you try to install the app.

Here's where to check:
Shopify > Settings > Shipping and Delivery
Check you have shipping profiles to ship to Australia and/or New Zealand

Shopify > Settings > Locations
Check you have locations set up in Australia and/or New Zealand

Shopify > Settings > Store Details
Currency: Check your store sells in AUD or NZD
If these are in place, Shopify support has sometimes suggested re-saving this information, waiting 24hrs then trying install again.
If that still doesn't work, and you're sure the above is set, please contact Shopify support direct as they may be able to assist (this is not an app-specific problem, and generally related to Shopify store settings).
Should you need further assistance with this, please send an email to plugins@sherpa.net.au or log a support ticket via our help desk.